oh my gosh, can you believe this? a gorgeous waterfront, mountainside road to rainbow city as storms strike the water – and there i am ridin' high and happy on this scene straight out of a postcard!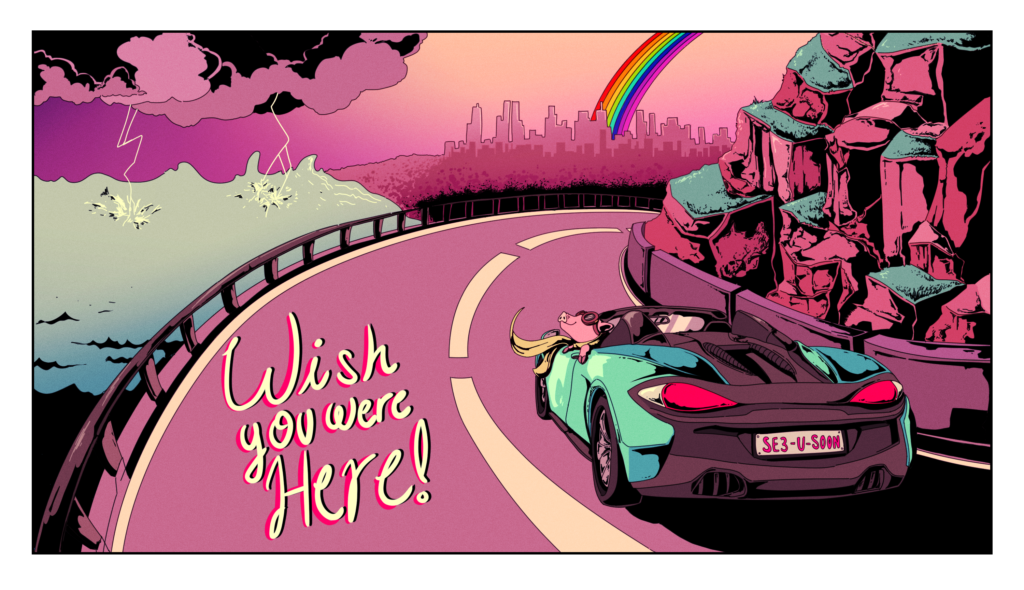 this picture blew the socks right off my hooves. holy crap! what a scene, what a landscape, what a view!
as always, i'm perfectly happy despite the storm, even when that fierce lightning is striking the bay. i guess that's why they call it lightning bay!
oink oink!
you can see rainbow city in the distance, and you can even make out the famous split rock skyscrapers and chroma tower under the rainbow as usual. i live out of town but i always love visiting rainbow city, nowhere beats it!
don't forget to eye up those rocky cliffs to the side either, it's a steep climb that i wouldn't like to make. luckily there are guardrails on both sides of this road. driving on these windy little streets is always fun for me and you can see the big smile on my face to prove it!
in fact, oink, let's zoom in.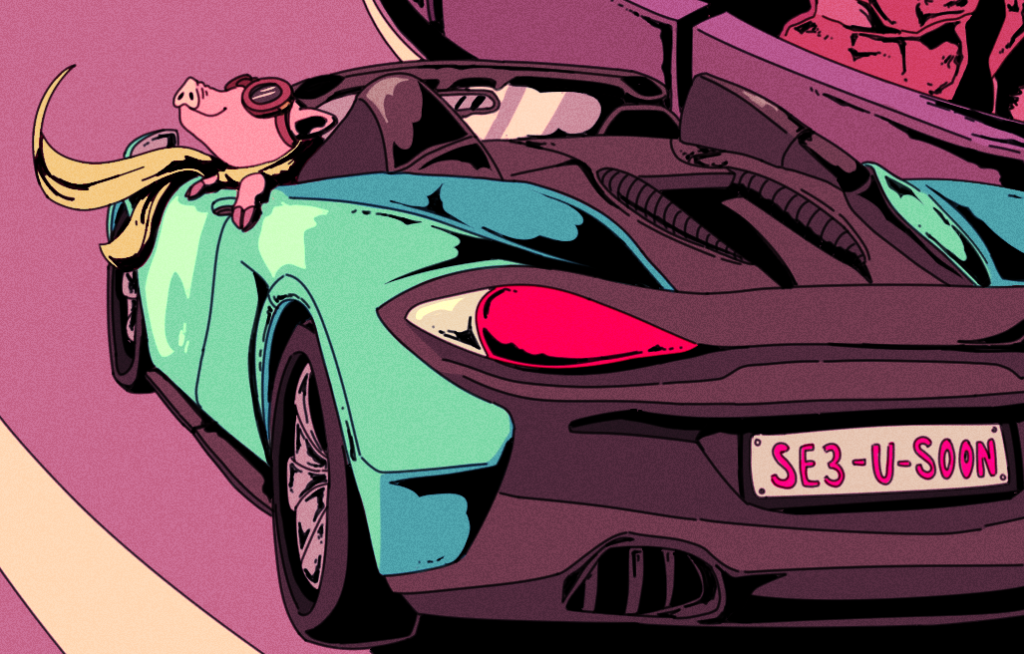 there's me in this beautiful mclaren 570s spider, which looks so muscley and powerful here. check out my wide lil grin, i've got my long yellow scarf and my finest driving goggles on and i'm enjoying every second of this drive. oink!
this art was drawn by ridley. you can find ridley on tumblr, instagram, twitter, and artstation under the name jellykebab. imagine a kebab of jelly! gracious me. ridley did such a great job on this piece, and in fact did another piece for me soon after this one too – an animated gif of me!
this image would be a great postcard. i really do wish you were here – or i wish i was there with you. maybe i'll get this printed one day. this picture did a great job of adding to my thunderstorm pig lore, too! can't wait to explore rainbow city some more.
as always, drive safe, and keep both hooves on that wheel! oink oink, thunderstorm pig out!