boom, crack, oink, oink! check out this awesome new thunderstorm pig art by katie braun, with a detailed and fantastically fierce mclaren 570s, a dark and stormy setting, and then the cutest lil pig you ever did see!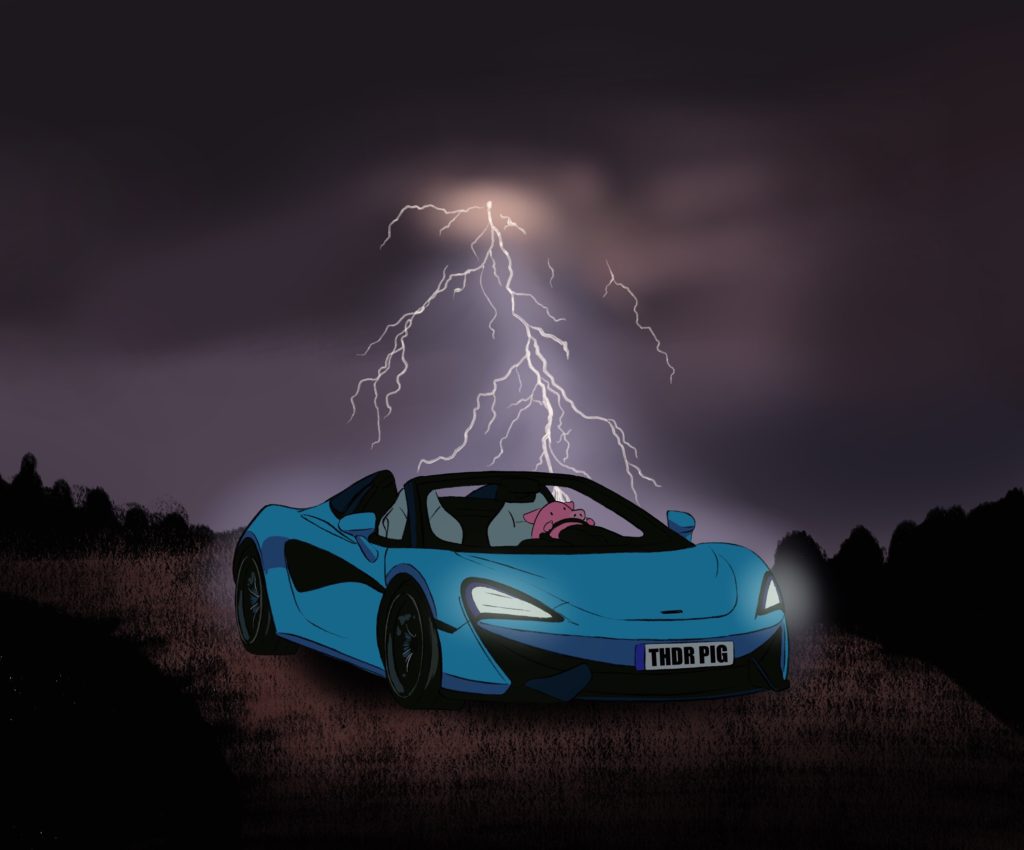 ahhhhhh i'm just in love with this!
oink!
let's look at the background first. i love the setting – dark, moody, mysterious, foreboding. tall dark trees on all sides, a moonless, cloud-covered night, and you can just feel how silent and still and spooky it is – no rain, no crickets, just utter isolation.
i even like how the ground is a little ambiguous here because it could be road or it could be grass. i kinda think it's the latter. dark short grass in a wide field. i don't know how well my mclaren is rated for off-roading but flat grass can't be too bad.
the sky is great too, i so love the shading, and that lightning bolt, singular and powerful illuminating the world… and especially illuminating me and my car.
and that car! oh man, this is the fiercest, beastliest, roughest and most badass depiction of the 570s yet. look at it, it's just daring you to cross it. i wouldn't if i were you. the glowing headlights, the swooping features, and those tires!! really love how those are drawn.
now let's get a close-up on me.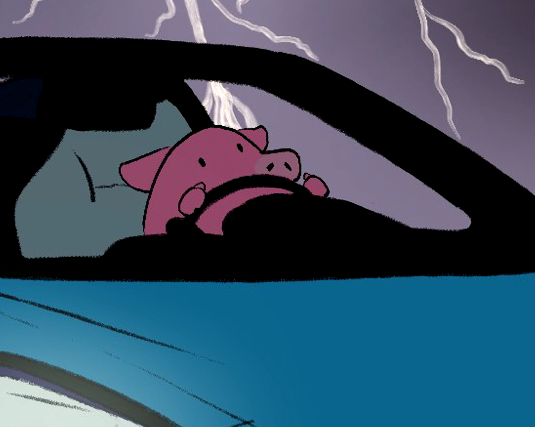 look at me.
(first can i also say that i love how the lightning – itself drawn in a very special, unique way unlike any other element in this image – is making direct visual contact with my head. because i am the thunderstorm pig.)
(oink.)
i just absolutely cannot get enough of how everything in this drawing is dark and foreboding and ominous and fierce and badass, and then you have me: the cutest little lump of a pig with my little piggy snout and my hands at ten and two on the wheel.
it can be dark and scary and rough on the outside, it can get real bad, but you just gotta keep going through it and keep your outlook nice and pure the whole time. look at me driving! i'm so cute.
this image is by the amazingly talented and wonderfully kind katie braun, who also has an instagram. she is such a good artist and i'm beyond happy i get to add something of hers to my collection!
don't ever forget how cute i am! oink oink! thunderstorm pig out!