wow, now this is amazing, it's the first time thunderstorm pig has ever been animated! check out those dynamic lines on this fierce and fantastic pig!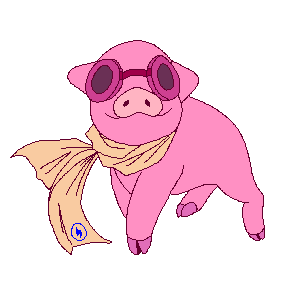 how cool is this???
the yellow scarf, the driving goggles, and my bold and adventurous little pose. i absolutely love it! gotta have that lightning bolt on the scarf too.
oink oink.
this animated gif was made by ridley. you can find ridley on tumblr, instagram, twitter, and artstation under the name jellykebab. you might recall that ridley just did my "wish you were here" piece too – when i saw the different styles i knew i had to get one of each!
sure my mclaren is important but i like to get some drawings of just me by myself sometimes too. i'm the pig in the spotlight!
oink oink! thunderstorm pig out!